MOBILE PIZZA CATERING SYDNEY
Welcome to Pizzeria On The Road, the most innovative way to make traditional wood-fired pizza caterings anywhere, anytime.
Our mobile wood-fired pizza catering in Sydney services include portable pizza ovens, together with our trained pizza chefs, who produce traditional pizzas to be enjoyed by all. Space is not an issue; we can cater indoors and even undercover.
We offer our skill, experience, passion and mobile pizza catering in Sydney wood-fired service, pizza catering for parties, pizza wedding catering, fetes, festivals, sports events, corporate functions, weddings and any party. We will cater to any need, including Vegetarian, Vegan, Gluten-Free and Halal.
Get in touch for our quality authentic Italian pizzas, made fresh traditionally. Buon Appetito!
Pizzas are a great way to share and enjoy a meal together with friends and family, and with our pizza oven catering you can throw a party that everyone will love.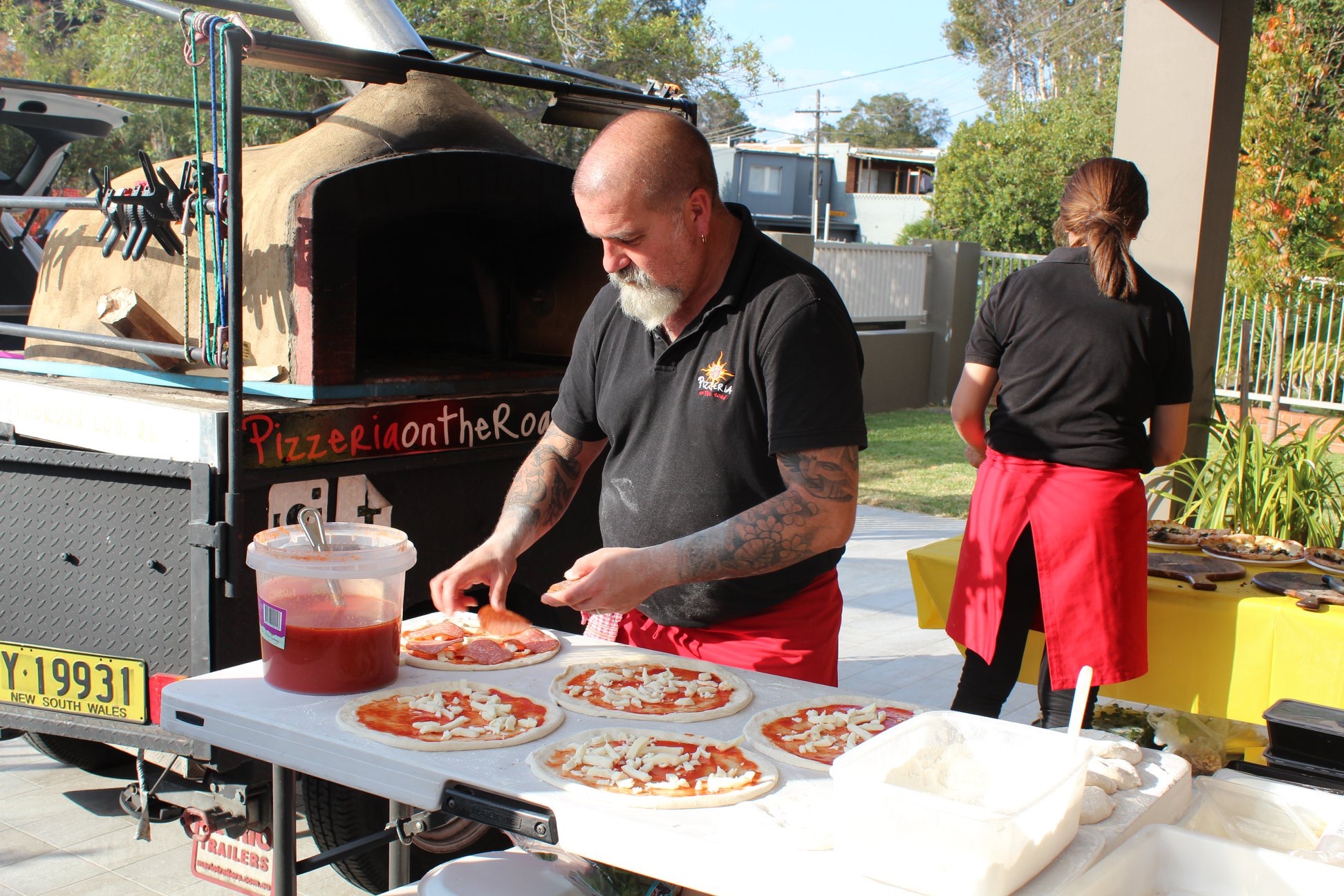 Pizzeria On The Road is the first pizza catering in Sydney to have mobile wood-fired ovens professionally mounted on a trailer. The mobile unit is fully equipped and self-contained, and compliant with Australian regulations.
Once your guests arrive, we begin with your entree pizzas, moving onto main varieties and finishing with our famed dessert pizzas.
Due to high demand at festivals and parties, we now have four teams and four mobile wood-fired ovens, enabling us to cater for more events. Pizzeria On The Road provides pizza wedding catering or pizza catering for parties Sydney-wide.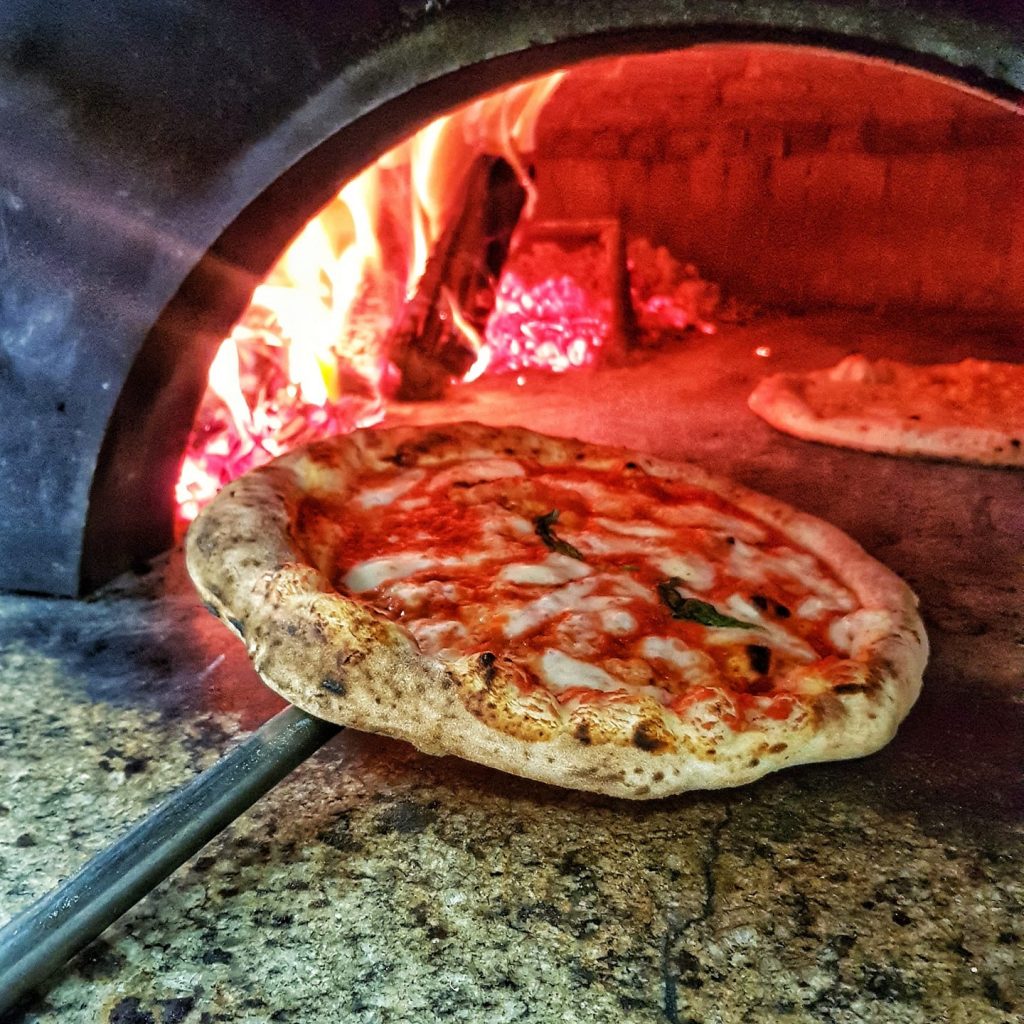 TRY OUR TRADITIONAL WOOD FIRE MOBILE PIZZA CATERING SYDNEY-WIDE
Our pizzas are cooked before you and made from scratch, using only the best and freshest ingredients. Our homemade pizza dough is hand-stretched and shaped on the spot, made new just for your event.
Topped with our homemade sauce and local fresh ingredients, our pizzas are cooked directly on the stone of the wood-fired oven as you would get it in a traditional wood-fired pizza restaurant.
We use Fior di Latte mozzarella on our pizzas, the traditional cheese, along with all other fresh toppings. The results are superb! Enquire about our mobile pizza catering Penrith service today by contacting our team (We service Sydney-wide.) ..
Mobile Pizza Catering Penrith
Mobile pizza catering is a convenient and exciting way to serve delicious, hot pizza to guests anywhere. The Pizzeria on the Road team of professional pizza chefs is passionate about creating high-quality pizza using the freshest ingredients available. So we've got you covered whether you're hosting a corporate event, wedding, birthday party, or family gathering. Our mobile pizza woodfire ovens are equipped to handle any ceremony, and our catering team will work with you to create a customized menu that suits your taste and budget.
Pizza Catering Penrith
Our goal is to deliver you and your guests with a memorable dining experience that will leave a lasting impression. So book our mobile pizza catering service in Penrith today, and let us make your event a success!
March 30, 2023

Our ingredients are bought wholesale directly from Italy, including traditional Italian flour and top Fior Di Latte cheese.
Our pizzas are made fresh and on the spot, with fresh dough for top-quality pizzas.
Frequently Asked Questions
What is Pizzeria On The Road?
Pizzeria On The Road is a mobile woodfire pizza catering company based in Sydney. We offer a unique catering experience for all types of events and occasions.
What areas do you service?
We offer mobile pizza catering services in Sydney and the surrounding areas, including Penrith and Western Sydney.
What kind of events do you cater for?
We cater various events, from corporate functions and weddings to birthday parties and sporting events. Our mobile pizza service is perfect for any occasion where delicious, fresh pizza is needed.
What types of pizzas do you offer?
We offer various classic and gourmet pizzas made using fresh, high-quality ingredients. Our menu includes vegetarian and vegan options, as well as gluten-free bases.
Do you offer customization options for the pizzas?
Yes, we offer a range of toppings for you, or you can customize your pizza to your taste preferences. We can also cater to specific dietary requirements, and please do not hesitate to make any recommendations. We would love to make the menu as you imagine it!
How many people can you cater for?
We can cater for groups of any size, from small gatherings to big events with hundreds of guests. Contact us to discuss your requirements and we'll create a custom package to suit your needs.
What equipment do you bring?
We bring all of our own equipment, including our woodfire pizza oven, tables, and utensils. The mobile squad is fully supplied, independent and compliant with Australian laws.
How far in advance should I book?
We recommend booking our Sydney mobile pizza catering service at least two weeks in advance to ensure availability. However, we can accommodate last-minute bookings depending on our schedule. Contact us to check availability.
How much does Pizzeria On The Road's mobile pizza catering service in Sydney cost?
Our mobile pizza catering service in Sydney starts at $24 per person. We offer a range of packages to suit your budget and requirements. Contact us for a quote today.