MUCH-LOVED
MOBILE WOOD-FIRED PIZZA CATERING SYDNEY-WIDE
Welcome to Pizzeria On The Road, the most innovative way to make traditional wood-fired pizza anywhere, anytime.
Our mobile pizza ovens, together with our trained pizza chefs, produce traditional pizzas to be enjoyed by all. Space is not an issue, and we can cater indoors and even under cover.
We offer our skill, experience, and passion to clients from all across Sydney, catering for birthdays, celebrations, fetes, festivals, sports events, corporate functions and weddings. We will cater to any need including Vegetarian, Vegan, Gluten-Free and Halal.
Get in touch for our quality authentic Italian pizzas, made fresh in the traditional way. Buon Appetito!
Pizzas are a great way to share and enjoy a meal together with friends and family.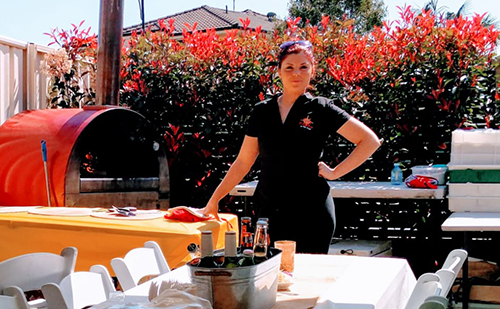 Pizzeria On The Road is the first business in Sydney to have mobile wood-fired ovens, professionally mounted on a trailer. The mobile unit is fully equipped and self-contained, and compliant to Australian regulations.
We begin with your entree pizzas once your guests arrive, moving onto main varieties and finishing with our famed dessert pizzas.
Due to high demand at festivals and parties, we now have four teams and four mobile wood-fired ovens, enabling us to cater for more events. Pizzeria On The Road can provide pizza catering for events Sydney-wide.
Our Traditional Wood-Fired Pizzas
Our pizzas are cooked in front of you and made from scratch, using only the best and freshest ingredients. Our homemade pizza dough is hand-stretched and shaped on the spot, made fresh just for your event.
Topped with our homemade sauce and local fresh ingredients, our pizzas are cooked directly on the stone of the wood-fired oven as you would get it in a traditional wood-fired pizza restaurant.
We use Fior di Latte mozzarella on our pizzas, the traditional cheese, along with all other fresh toppings. The results are superb!
Our ingredients are bought wholesale directly from Italy, including traditional Italian flour and top Fior Di Latte cheese.
Our pizzas are made fresh and on the spot, with fresh dough for top-quality pizzas.